Here are some snippets of the sorts of things going on in our school!
Please check our Covid-19 News & Information here for updates from our Head Teacher, Chris Pearson.
As always, if you have any school-related news that would be interesting to our parents please contact Nerys in the school office: neryslucas@goldstone.brighton-hove.sch.uk
The Copper Monsters Coin it in!
The start of the Autumn term saw the school being overtaken by a gaggle of ghoulish creatures, much to the surprise and horror of the grownups! What were there monstrosities with their scary teeth, googly eyes and garish adornments, they cried? Copper Monsters, came the surprising reply!
An ingenius idea cooked up by FrOGS, a Copper Monster, it turns out, is a large decorated jar, designed for the collection of, you guessed it, copper!! (By copper, we of course mean the coin kind, not the teapot kind!) Each class received a monster, and the children were asked to try and fill them using 'spare' copper change from home.
As the monsters filled up, the FrOGS took the change to get it counted, with the running total a staggering £275!! The monsters are now back in their natural habitats - the classrooms - eating up more of their chosen treats, with the added incentive that the class who collect the most, receive an extra afternoon of Golden Time before the end of term.
It really does go to show that every penny counts!
Its a Bugs life at the 5* Bug Hotel
A group of keen eco warriors from Year 4 recently spent the afternoon creating a bug hotel with the help of Ruth the gardener.
A scientific review from 2021 had looked at 75 different studies covering a range of insect groups from around the globe, and the results were both startling and alarming. It revealed that over 40% of all insects are declining, and a third are endangered. The data suggests that the rate of decline is at least 2.5% per year.
"So we built them a 5* hotel as they deserve a little "me time" 🤣", explains Ruth.
They used a selection of found materials, including card, old pots, straw and twigs to create new habitats for wildlife. They counted how many bugs and creatures were found at the site of the hotel - which included a few ants, a worm and a wood louse. They plan to return in a couple of weeks to see how many more creepy crawlies have moved in and made themselves comfortable in their new luxury habitat.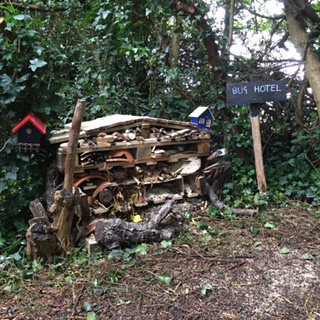 June 21
Bedding down in the Goldstone Garden!
Since returning to school in the Spring, it seems like the gardeners have barely slept....... which is perhaps why Ruth and her team of green-fingered helpers decided to up-cycle a double bed, and turn it into a flower bed….!! You certainly can't accuse these lot of sleeping on the job. Sweet dreams - or should that be sweet peas?!
(For more information on the Goldstone Garden see the 'Goldstone Garden' pages)
June 2021
Step 1: Get a double-bed base and stick it in the middle of the garden.
Step 2: Measure around bed and build a wooden box.
Step 3: Make the bed, by filling the resulting wooden box with soil.
Step 4: Turn the bed, by filling to the brim and even surface over.
Step 5: Add some 'bedding plants' and cover with bed base, and lie back and admire your handiwork.
The Goldstone Time Capsule
Whilst in the second lockdown, our Head of Year 3, Claire Winter, had a brilliant idea to document the experiences of the past year by inviting the families of our school to take part in creating a 'writing time capsule'. The families were encouraged to write poems, journals, short stories, funny anecdotes of around 200 words that have been shared in school displays and within the school community.
A physical 'timecapsule' was then obtained, and the resulting pieces of writing placed within the capsule, and buried in the school grounds!
A stone was then laid on top of the capsule, marking it's location for generations to come who may like to look back on the Goldstone communities experiences during the Pandemic of 2020/21.
Thank you to all the families, parents/carers and children, as well as staff members who contributed to this lovely project.
May 2021
Parents & Carers Raise a record amount on 'Mad Hair Day'!!
On Friday 28th May the FrOGS organised a 'Mad Hair Day' and dress down day for the children. Children were asked if they wanted to wear their own clothes, and a funky or unusual hair-do, for a completely voluntary donation. The response was incredible, with a range of fabulous and fantastical follicular creations which were a joy to see and made the last day of term frivolous and fun for children and staff alike. Plus a simply hair-raising amount of £984.50 was donated to the coffers of the FrOGS, who do such an amazing job for the school.
Here is just a small selection of examples of our wonderful children expressing themselves through the medium of hair!
June 2021
Year 5 pupils Race to Raise Funds for Goldstone!
During their holidays, 6 friends from Year 5 at Goldstone Primary School- Sashi, Sam, Joe, Isaac, Thomas and Tom - took it upon themselves to run 20km each as part of a 120km challenge! The intention? To raise money to buy much needed footballs for all of the different year groups - not just Year 5 - to be used during breaktimes, as well as storage for the balls.
Their target was £225.00, with funds raised via a GoFundMe page, and cach donations from friends and family. Any additional sponsorship was agreed to be donated to the FRoGS (Friends of Goldstone School) PTA, the fundraising charity that provides events and equipment for the school community.
Did they do it?
YES THEY DID IT! The boys all completed their individual 20km challenge (jointly doing over 120km)! Some of their friends also joined the running challenge, and Ruan also completed the full 20km.
They also smashed their fund raising challenge with an online and offline combined tally currently standing at a whopping £445.
Thank you to everyone who has donated and supported them along the way! There is still time to make a donation if you visit their GoFundMe page.
The Story of an Author and YR3......
YR3 are very excited to be working with award winning children's book author Guy Bass, his books include Stitch Head The Legend of Frog, Dinkin Dings, Atomic! and Monster Madness / Monster Mayhem. He won a Blue Peter Book Award in 2010 for Dinkin Dings and the Frightening Things and has twice won the Portsmouth Book award.
Check out their incredible work here.
Year 2 have been learning all about measuring in the Secret Garden
Year 2 have been learning maths outdoors this week. They have been learning how to measure in centimetres (cms) using natural objects. Year 2 visited the magical secret garden for a series of lessons, which included learning how to measure accurately in cms, learning how to compare objects of different lengths and also learning how to order different objects of different lengths.
There was definitely a lot of wonderful learning and maths magic going on!
Year 1 Enjoy Planting Sunflowers in the Living Garden
The Poppies, Daisies and Snowdrops classes lived up to their floral names last week, with a thoroughly enjoyable morning in the 'Living Classroom', planting their own sunflowers.
Ruth, our resident gardener, led the children through the process as a part of their science unit on plants and growth.
May 2021
Year 3 Time Travellers…
On the 23rd March Year 3 had their long-awaited Greek Day. Having been postponed in January when the schools shut, they got to wear their home-made outfits to school. We were very impressed by the variety of outfits including Medusas, Goddesses, Philosophers, Spartan warriors and many more. Well done everyone, you looked amazing.
We had a fantastic day learning about Greek theatre, where we made a mask for either a comedy or tragedy.
We also had a go at some of the events from the Olympics – although we decided to keep our clothes on! We found it difficult to throw the discuss but enjoyed having a go. Our long jump was very competitive.
All in all we have thoroughly enjoyed sharing what we have learnt about the Ancient Greeks whilst learning at home and since returning to school.
March/April 2021
Lockdown Art Competition
Our Art Coordinator, Hayley Best launched a competition during lockdown to help engage and unite the whole school community, both children and adults, with an uplifting and inclusive creative project. Here are our fabulous winners!
Charity comes to town in the Autumn term
The Autumn term has seen a couple of events which have allowed the children to dress up and have some fun and raise some money for both the school (via our winder PTA group the FrOGS) and also outside charities.
Just One Tree
The first if these was the 'Just One Tree' day on 16th October, with children wearing their own clothes into school for a suggested donation of £1.00. The charity pledges to plant a tree for every £1 received to combat climate change, pollution and deforestation globally. More details of their work can be found on their website: https://www.justonetree.life/about-us.html
Donations collected on the day totalled an impressive £612.00, with one Year 4 pupil donating £65.00 of his own money, which he collected over the year, as he really believes in the importance of the project.
In addition to this outstanding display of generosity, the school were equally impressed when a parent contacted the school to offer to increase the donation to include for a tree to be planted for every pupil and staff member! So with an additional £180.00 pledged by this one parent, the total reached was £892.00! What an amazing result for an amazing charity.
Dress Up Spectacular
Normally in the Autumn term the children would be able to enjoy the Halloween disco events put on by the FrOGS parent/teacher association. However this year, with Covid restictions in place, the event was unable to go ahead. Instead the FrOGS proposed a 'Dress-Up Spectacular' Day, where children could come into school wearing whatever they liked; halloween fancy dress, normal fancy dress, or just their own clothes!
As always children and staff members threw themselves into the event with enthusiasm and gusto! Thee office staff in particular have a reputation for their themed dress up, with this event being no different! Having been likened to 'fish in a fishbowl' due to the perspex screens in place at the hatch due to Covid, the team delighted the children with a fish-tank theme, with Nerys, Emma & Fleur starring as tropical fish, The Bursar Jane as a jellyfish and Chris the Head Teacher in the starring role as a lobster!
As impressive £670.00 was raised for the FrOGS, whose fantastic work helps the whole school.
Anti Bullying Week 16-20th November
As part of a school-wide initiative to raise awareness of Anti-Bullying Week, Year 6 have been making some collages to represent feelings and emotions and mental health awareness.
Here are just a few fabulous examples;
Snowdrops Enjoy a Funpacked Science Morning
Mrs Broadbent from Snowdrops class reports on a fabulous morning in Year 1, where they explored the five senses through a carousel of activities including a listening walk, tasting sweet, sour, salty and spicy food, smelling a range of aromas, sharing a feely bag and experimenting with different glasses and things to look through. The children look as though they absolutely loved it!
November 2020
Year One Recreate Drusillas at school!
On Tuesday 24th November the school became a zoo, when Year 1 tried to recreate their normal trip to Drusillas by having an animal day! The children wore their own clothes and brought a packed lunch which we enjoyed 'picnic' style in their classrooms. Mrs Conry even dressed up as a parrot to join them for lunch!
In the morning we enjoyed a visit from Reptylers. Jem showed us lots of animals including: a skinny pig (hairless guinea pig), tarantula, poisonous toad, snake, Chamaeleon and a bearded dragon. Afterwards the children made a crocodile craft in choosing time. Then in the afternoon we had a zoom with Lindsay and Alex from 'Lindsays animal school'. They showed us even more animals - e.g. giant rabbits, harvest mice, magpie, macaw parrot, pug, terrapin, ferrets and much more!
The children learned lots of new animal facts and used this information to write a non-fiction text the next day on an animal of their choosing.
All-in-all it was a great success with the children getting into the spirit and joining in with great enthusiasm. We hope that this has therefore helped to ease the disappointment of missing out on what would have been the Year 1's first proper school trip. Well done Year 1, we are very proud of you.
November 2020
Goldstone ECO Comittee
Our eco committee are up and running again in a covid safe way. This year the different year groups are taking it in turns to emet, so that they can remain in their 'bubbles'. At the moment it is the turn of the Year 6s. They are busy making videos about litter in the school and planning for a remote climate change protest. They also participated in the online youth climate summit. More news on this soon!
https://www.transform-our-world.org/youth-climate-summit-2020
Transform Our World: Youth Climate Summit 2020

Our world leaders might not be meeting to discuss our climate and ecological crises this November, but thousands of young people will be. A virtual Youth Climate Summit will be taking place 9-13th November to show that climate change is not dropping down our agenda.

www.transform-our-world.org
Goldstone teachers Mrs Harris and Miss Lewis contributed to an online webinar about outdoor learning attended by 65 teachers. They made presentations about the work we do outdoors at Goldstone Primary School. Here's a link:
https://www.youtube.com/watch?v=UzOshGx5BgE&feature=youtu.be
Feedback from teachers included comments such as:
Hearing the fantastic things that are going on in different schools' – LOTS of responses similar to this
'Hearing the teachers sharing their lesson ideas.'
'Examples of others sharing good practice and linking to the curriculum – very inspiring'
'Hearing about The Lost Words Project'
'The confidence in the air that there is a different way of doing things'.
December 2020
Year 2 Great Fire of London Immersion Day
The children in Year 2 were transported back in time to 1666 for a wonderful day of historical learning. Everyone in Year 2 dressed up to immerse themselves in their learning for the day. The children then experienced life in 1666 through various activities during the day. Mrs Harris helped the children to make bread over an open fire in the woodland area. This was brilliant fun and the children were captivated by the open fire and by making bread in a frying pan. Miss Enoch worked with the children to make Great Fire pictures where houses were engulfed in circles of flames. Miss Lush taught the children a brilliant Great Fire of London song which was filmed for everyone to watch.
We also read books and played interactive games to help us learn many new facts about this great period of history.
Ask your child:
Where did the fire start?
How many churches burnt down?
Why did the houses burn so easily?
What was used to try and stop the fire?
Which man wrote a diary about the great events?
This was truly a fun fact filled day where the hands-on experiences brought 1666 to life. Thank you to all parents and carers for embracing the dressing up with such enthusiasm and making the day such a success.
October 2020
Header
https://www.youtube.com/watch?v=JH8pvQLW_wU